Recommendations

(Please note that these are strictly
our
favorites! We are not getting anything for putting these recommendations on our site! We want you to enjoy our favorite finds too!)

Activities You Don't Want to Miss:
Captain Steve's Rafting Adventure
This is by far
our favorite activity to do on Maui
! Everyone we recommend it to always says the same! We go every trip if we can! The snorkeling is amazing!!! The snorkel trip lasts almost all day! They race you over to the island of Lanai to several unique snorkel locations. If you don't know how to snorkel, they have gear and will teach you. Or lots of people just come to enjoy the fast boat ride. We frequently see dolphins (playing in the wake of the boat!), often swim with sea turtles, and we always see whales as we cross the channel during whale season (December-April)...not to mention the boat ride is really fun and lunch is great! (808)667-5565 Tell Capt. Steve & his lovely wife, Gina, that we said Aloha!)

Old Lahaina Luau
If you are planning on going to a luau this trip (and you shouldn't miss it) then this is definitely our favorite oceanfront luau! The delicious food and the beautiful hula show are the most authentic you will find. Enjoy unlimited mai tais and pina coladas and tropical libations. Friendly, warm, family atmosphere. Watch them remove the kalua pig from the imu (bbq pit) view Hawaiian locals demonstrating ancient skills and arts. Beautiful music and hula. Lots of aloha here. Call and make reservations even before you come if possible, as this always sells out! 1251 Front St, Lahaina (800) 248-5828.
Lana'i
If there is time, pack your beach gear and a picnic and take the ferry over to the Island of Lana'i and walk over to the beach for the day! Beautiful! Dolphins often come into the bay and if the water is calm, the snorkeling is fine, as is playing in the waves. It's not usually crowded on the sandy beach. You can rent a paddle board and learn to ride. There are great walking paths around the rocky crags to where you can see across the channel to Maui. Restrooms and showers are on site. Plus the ferry ride is really fun! Ferry leaves from the Lahaina Harbor (across from the Pioneer Hotel). Look for a brochure at any of the little brochure stands to make reservations.

Warren & Annabelle's Magic Show
Our niece and nephew went to the show and loved it so much they gave us tickets! It was GREAT! Really funny comedy magic show. First enjoy cocktails, gourmet appetizers and dessert in Annabelle's Parlor. The food is excellent! The Royal Flush Package includes the show, appetizers, dessert, cocktails and gratuity! Sells out nightly, so be sure to make reservations in advance. 21 and older. 900 Front Street A202, Lahaina (808) 667-6244.

Snorkel Molokini Crater
If you like to snorkel, don't miss this trip out to the Marine Preserve that is Molokini Crater. Many of the boat companies head out here everyday (if the sea is calm), and they all are good. If you rent snorkel gear from Boss Frog's or Maui Dive Shop or Snorkel Bob's, they each have their own boat trips out to the crater and will give you a discounted trip with your rental. Take advantage of it. TIP: Do
NOT
get talked into booking an
afternoon trip
though, as the ocean tends to get rougher in the afternoon and the captain has the "choice" to NOT go out to Molokini and will choose another location. While the alternate locations are OK, it's a big disappointment not to get out to the crater when you had your heart set on it!

Road to Hana
Everyone's got to drive the Road to Hana once in their lifetime! Yes, it's a long jaunt, but it is just gorgeous and breathtaking!!! Definitely a MUST DO! Pretty much an all day FREE event! Be sure to get a guided tour CD (can be found everywhere, but we leave one in the condo if you'd like to use it (hopefully a previous guest didn't forget to return it)). There are amazing beaches and waterfalls and fantastic spots for pictures along the entire drive! Pop the CD in and it tells you history and great spots to stop and look (uses mile markers to tell you where you are and what to look for). Pause your CD and take your tour at your leisure! So NEAT! The Seven Sacred Pools are on the Road to Hana! My favorite is Waianapanapa Black Sand Beach (mile marker 32) there are neat caves to explore (and a blowhole!) and most amazing beach of black stones that roll against each other...the sound is unbelievable! Hana is just a little village, but the road to get there is the event! We usually turn around and drive back the way we came through the jungle, because the "back side" is desert and not much to see! Many rental car companies make you sign a waiver and won't allow you to drive the car "off road" the back way. Remember to practice Aloha and give way at one-way bridges. Fuel up before you go because Paia is the last place to fuel up until you get to Hana 42 miles away (plus 54 bridges and 600 hairpin turns on the road (while you're gawking at the unbelievable ocean and jungle views! amaaaazing!). Fun to rent a Jeep or convertible for the day just to take advantage of the 360 degree views (and smells!)!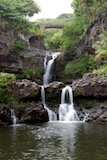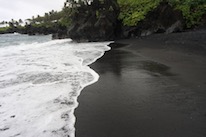 Where to Get Gear:
Boss Frog's
Dive, Surf & Bike Shop. Great place to rent snorkel gear...and it's located right behind the parking lot of the condo! If you rent equipment you can get a Snorkel Boat trip at a reduced price. Great opportunity to learn to snorkel with experts at the best snorkel spots. Always buy the MORNING Molokini trip, because in the afternoon, they seldom go to Molokini...they opt out and go to other locations because of rough seas. Kahana Manor Lower Honoapiilani Rd, Kahana (808) 669-6700

Maui Dive Shop
Good place to rent scuba gear. Another great place to book a snorkel trip. Kahana Gateway Mall, 4405 Honoapiilani Hwy #204, Lahaina (808) 669-3800.

Where to Rent a Car:
Maui Rent a Car
Formerly Word of Mouth Rent A Car if you've used them previously. So, they're not brand new! We figure, why waste money on an expensive rental car when we're just going to get it full of sand? (877) 452-5642
.
Discount Hawaii Car Rental
We haven't used them yet, but our son lives in Maui and told us about them. (800) 292-1930.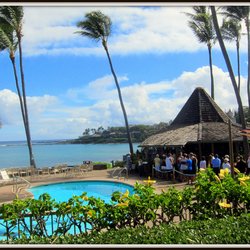 Our favorite places to eat are:


Breakfast:
(Near the Condo)
The Gazebo
Daily 7:30am-2pm (image above!)
HANDS DOWN OUR FAVORITE RESTAURANT IN MAUI...OUR FIRST STOP the morning after we arrive!
It's "hidden" in Napili Shores Resort a short drive from the condo .
Everything
is great--we recommend the Fried Rice (Yes! unbelievably yummy! We get a large order and take it back to reheat with BBQ at the condo later), Big Kahuna Omelette and the Macadamia Nut Pancakes with coconut syrup! They also have great lunch items as well, and you can have either breakfast OR lunch all day. It's RIGHT on the water! Keep an eye out for whales and turtles! Dolphins sometimes come into Napili Bay as well.
Get there EARLY or there's a line!
But it's worth the wait and the views are spectacular! 5315 Lower Honoapiilani Road Lahaina (808) 669-5621.

Castaway Cafe
Another "hidden" restaurant on the beach! They have the best Loco Moco in town! They have great macadamia nut pancakes!! They also used to have a reasonably priced Pasta Special on Tuesday nights...ask about it! Located in the Aston Maui Kaanapali Villas at 45 Kai Ala Drive Lahaina. (808) 661-9091. Right next to Airport Beach, so head there next for great snorkeling and beaching!

The Plantation House
Located in the Kapalua golf course club house. Come eat where Tiger eats! BEAUTIFUL views of the golf course and ocean! Be sure to try the fresh pineapple spears with the Plantation's secret cinnamon/sour cream sauce. Great hamburgers too. Affordable for breakfast & lunch. Elegant dinners are more pricey. 2000 Plantation Club Drive, Lahaina (808) 669-6299.

The Coffee Store
Best local coffee! In a hurry? They also have great locally made pastries, quiches and sandwiches. Located in the Napili Plaza Shopping Center about a mile north of the condo. 5095 Napili Hau, Lahaina (808) 669-4170.

(In Lahaina)
Longhi's
Located on Front Street Lahaina. They do serve lunch and dinner, but we like it for breakfast best. Everything we tried was delicious! This restaurant has won a lot of awards and was highly recommended (frittatas, sour dough toast, fresh squeezed orange juice), so we tried it this last time...kind of pricey, but worth it! 888 Front Street, Lahaina, HI (808) 667-2288
.

Lunch and Dinner:
(Near the Condo)

Maui Brewing Co.
(aka Maui Fish & Game) Close to the Condo! This is in walking distance across the street from the condo in the Kahana Gateway Center. Great burgers with local beef, wings, nachos, and great local beer. Casual evening dining, stroll here for some GREAT food! Have a local beer and some "pupus"(appetizers) 4405 Honoapiilani Road, Lahaina (808) 669-FISH.

Dollie's Pizza
Right across the street from the condo. They have great salads too and the Maui Wowie Pizza even has macadamia nuts on it! After a long day of beaching, and you just want something easy and simple, this is a great alternative. To go orders are available too. So bring a pizza back and sit and watch the sunset on the beach. 4310 Lower Honoapiilani Road, Lahaina, HI (808) 669-0266.

China Boat
GREAT food within walking distance from the condo! Behind Kahana Gateway Shopping Center 4474 Lower Honoapiilani Road, Lahaina, HI (808) 669-5089.

Maui Tacos
Daily 9am-9pm
Inexpensive and delicious
! Before or After a long day of snorkeling, nothing hits the spot like a Maui Taco! SOOO GOOD! They have great breakfast entrees as well. Try the many choices on the salsa bar...our favorite is the Pineapple Salsa! There are a few of them all around Maui, so check the website! The closest is at Napili Shopping Center, next to The Coffee Store, but there's also one downtown Lahaina by Ace Hardware.

Sansei Seafood Restaurant & Sushi Bar
If you like sushi, this is the place for you!!! World famous sushi bar. Located at The Kahana Shops 600 Office Road, Lahaina, HI (808) 669-6286.

(Whaler's Village at Kaanapali Beach)
Hula Grill
Located at Whaler's Village on Kaanapali Beach. Make sure you request to be seated in the "barefoot bar"! Kick off your "slippahs" and dine with your feet in the sand! Great place to watch the sunset! Great nightly Hawaiian music often with hula dancer! We LOVE their fish and chips with guava ketchup a MUST! Macadamia nut brownie ice cream dessert YUM! For more formal dining, try their inside restaurant. (808) 667-6636.
Leilani's
Also located at Whaler's Village on Kaanapali Beach, right across from Hula Grill (above). It doesn't have a barefoot bar, but it's another great restaurant you're sure to like! Eat outside, under the umbrellas. Try the fish tacos with sweet chili aoli sauce!
Don't forget to save room for Hula Pie! Like Hula Grill, they also have a more formal pricier inside dining room. (808) 661-4495.
Roy's
Created, owned and operated by world renown chef Roy Yamaguchi. Located at the entrance to Kaanapali Beach. Hawaiian fusion cuisine. 2290 Kaanapali Pkwy, Lahaina
(808) 669-6999. Also one in Kihei. Pricey.
Son'z Maui at Swan Court
Terrific breakfast buffet, although pricey! Located in the Hyatt Regency also on Kaanapali beach. Overlooks a pond with swans! Very elegant and memorable. Casual dining. 200 Nohea Kai Dr. Lahaina, HI
(808) 661-1234.

(In Lahaina)
Kimo's
Downtown Lahaina. Fresh seafood, hamburgers, steak, open air oceanside dining...a little pricey, but good stuff! Ask for an ocean view seat! Central Lahaina landmark! Save room for the Hula Pie! Live Hawaiian music 7-8:30pm M-F. 845 Front Street, Lahaina, HI. (808) 661-4811.
Lahaina Fish Company
Downtown Lahaina. Great food! Watch the sunset from Front Street while you dine! Ask for oceanside seating! 831 Front Street, Lahaina, HI (808) 661-3472.

Star Noodle
Delicious food! Decent Prices (for Maui!) and has a nice atmosphere. Their Pad Thai, Miso Salmon are the best! Also their desserts! Love the Malasadas (like a donut) and homemade gelato daily. Owned by the Old Lahaina Luau family. 286 Kupuohi St, Lahaina (808) 667-5400.

Choice Health Bar
Our daughter in law's absolute favorite! Juice bar/cafe with amazing acai bowls and super fresh smoothies made with local organic fruit! 1087 Limahana Pl, Lahaina (808) 661-7711.

(In Paia, Kahului side)

Charley's
Paia. Named after the owner's pooch, this down-home, laid back restaurant serves a tasty breakfast, lunch and/or dinner. In downtown Paia, this is the restaurant where Willie Nelson hangs out regularly when he is at home in Maui. Friends with the owners, he often times comes in and eats and frequently performs for local fund raisers. Come check it out and get a cute "Charley the dog" T shirt. 142 Hana Highway, Paia, HI 96779 (808) 579-8085.

Mama's Fish House
Paia. Pretty pricey, but EVERYONE recommends this place because the food is well worth every penny they say! Maybe try it for lunch to start off with? Or stop by after a day of watching surfers and wind surfers over at nearby Honokowai Beach. 799 Poho Pl, Paia (808) 579-8488
Don't Miss These Two Places !!!:
Beach Bums
Oceanfront! We found this little gem on our last trip and we went there MANY times! Best smoked prime rib or pork ribs in the world! Get a rack of ribs, it's big enough to share for two! (Try the cole slaw and green bean casserole as sides.) Wednesday is half price rib night. DON'T MISS IT, GREAT VALUE! Also HUGE Salads! They also have Great Breakfasts with big servings too (we like the eggs and smoked prime rib breakfast...yes!). Maalea Harbor Shops (Lower level below the Pacific Whale Foundation next to the Maui Ocean Center Aquarium) 300 Maalaea Road #1, Wailuku, HI 96793 (808) 243-2286.

Koho's Grill & Bar
(airport side of the island) We've been going to Koho's since 1996! When we get off the plane....we head here for lunch before we do anything else! Love the Fish Plate Lunch, Koho Plate (has an amazing sauce!), incredible Ono fish and chips, delicious fajitas, and the Kilauea Snowball is a great dessert (like fried ice cream, ask them to use macadamia nuts instead of walnuts on the outside)! Reasonable prices! At the Ka'ahumanu Mall. 275 West Ka'ahumanu Ave, Kahului (808) 877-5588.



Our favorite beaches are:
Click
here
for a great link to a review of the best Maui beaches.
All the beaches on Maui are great, and all resorts must provide public access to their beach area...but here are some of our personal favorites:

12 steps from the condo!!
(West Maui)That's right! The condo is located right on a 1/2 mile sandy, great beach! Not a lot to look at for snorkelers--there is a reef a ways out--but it's a great place for family swimming and boogie boarding when the waves are high. It is renown for whale watching (during season) and for its spectacular sunsets. People come to our beach from all over to watch the sun go down between the islands of Lanai'i and Moloka'i! There are a group of Valley Isle locals that always join on the beach to watch the beautiful Maui sunset and blow their conch shells--feel free to join them one evening! Make sure to watch for the "green flash" at sunset!

Airport Beach
(Ali'i Kahekeili Nui Ahumanu Beach Park aka "Airport Beach"... because the old airport used to be there) This is probably our overall favorite beach because of its easy access into the water, nice parking lot close to the beach, a grassy area, covered picnic area, bathrooms and showers. The snorkeling is incredible! There is a huge coral reef right offshore that spreads up the coastline a LONG ways (almost all the way to the condo!). LOTS of divers take off from here. Take your binoculars, because we often see pods of dolphins and whale blows (in season). Great variety of fish, and we've spotted octopus, squid and many green sea turtles. When you come to the stop light at the Sugar Cane Train Station and Ka'anapali Coffee Farms, turn down towards the ocean and you are there (Pu'ukolii/Kai Ala Drive).
Black Rock
(West Maui) (North end of Ka'anapali Beach) A close second favorite best beach!--best snorkeling out around the point. Be on the lookout for the huge resident green sea turtles that come in close to the shore (and spotted eagle rays in August too!) It's a great sandy beach and beautiful view! Nice sandy access into the water. Whaler's Village and the Sheraton have public restrooms. There are public showers to rinse off at this beach too. At sunset, watch for the native Hawaiian to climb barefoot up the black rock (lava! ouch) and light the torches! The only drawback to this beach is that there is very little parking nearby and it's a trek out to the beach. So go early and plan to stay all day. Because it's protected, often Black Rock water is clear after heavy rainfall, when other beaches are cloudy.

Kapalua Beach
(West Maui) This has been written up in Conde' Nast magazine as the best beach in the world! Perfect crescent beach with lots of sand and excellent snorkeling to the left and right (best is on the right!). It's a good beach for kids because it's protected and usually calm. Go up the lower road towards Napili and just past the Napili Kai Resort turn left into the parking lot. Go down the stairs and through the "tunnel" and voila! Takes your breath away. Showers and bathrooms are available here.

Napili Bay
(West Maui) This beach is another perfect crescent beach. Has restaurants to the right and left (Gazebo (our favorite breakfast!) is to the left and Sea House to the right). In front of the Gazebo, there are great tide pools (watch out for the waves because turtles ride the waves there! LOL). We love this beach for the best boogie boarding and body surfing, also has good snorkeling to the right. Park at the Napili Kai and walk through their property and down to the beach.

Honolua Bay
(West Maui) AMAZING snorkeling! No beach, just rocks, but gorgeous! This beach is a marine preserve--you walk through a jungle to get here. It's right next to Slaughterhouse. Neither have toilets or showers, but beautiful and really great snorkel spots in the summer and amazing surfer watching in the winter!
Slaughterhouse
(West Maui) Absolutely gorgeous beach! Usually it's not crowded--mainly because there isn't a lot of parking and there aren't any bathrooms. It's a trek down some steep steps to get here, so pack light! But it's a great piece of paradise! Snorkeling is great at this beautiful sandy beach.

Fleming Beach
(West Maui) Best beach for boogie boarding. This beach is a nice sandy state beach with a lifeguard, barbecues, bathrooms and showers. No grass--wear your slippahs because there are little mini pine cones you'll step on from parking to the beach.

Kihei/Wailea Area Beaches:
Ulua Beach
(Kihei/Wailea area) Great parking, showers, bathrooms and just a short walk to the beach. Easy sandy access into the water, and pretty flat and shallow for a ways out, so great for the kids. Long sandy beach for walking. Great snorkeling reef right off shore. Not usually crowded, and some shade trees. If we are headed down to Kihei area to beach, this is usually where we will go.

Big Beach
(aka Makena Beach) (Kihei/Wailea area) We think this is one of the most spectacular beaches on the island! Big beach is a very sandy beach that usually has huge waves. It's breathtaking. It's a renowned beach for boogie boarding and body surfing, however it's NOT a place for beginners and NOT a good swim area for small children. The undertow can be strong and waves relentless. But it is a great beach to watch surfers (or surf if you know how!) There are no showers though and only porta potties. Great beach for large family gatherings and picnics. It's a huge and wide beach, but watch out though if you're going for a long walk with kids...on the northern end there is a rocky outcropping to reach Little Beach (Pu'u Ola'i Beach) one of Maui's unofficial nude beaches.

East Maui (Airport/Pai'a side) Beaches:
Baldwin Beach
(East Maui) (Airport side of the island) Lots of surfers to watch at this beach. Beautiful long beach with plenty of spots to sit without people right next to you. Not a snorkeling beach. There are public restrooms and showers--as well as a basketball court for those of you so inclined. Parking is limited--we park in the street and walk if we have to. Really a best kept secret beach, lots of locals go here.

Honokowai Beach
(East Maui) This is NOT a swimming beach. Rough, windy and rocky, however, it's a GREAT favorite by the professional wind surfers and kite surfers. Take a picnic and sit and watch some spectacular sites. Go past Mama's Fish House and look for sails or kites. You can't miss it. Whenever it's windy, rainy, or not a great day to go to the beach, we head here to enjoy the show!

Kanaha Beach
(East Maui) (Close to the Airport) If you saw kites as you landed at Kahalui airport, you were looking at Kanaha Beach. This is where the annual wind surfing tournaments are held, Wide World of Sports shows up with their cameras! Lots of wind surfers as well as kite surfers to watch at this beach. This is huge park with lots of trees and picnic tables. The sand has some pine needles and cones, so wear your flip flops. Not as rocky or treacherous as Honokowai, Kanaha is where beginners learn to wind/kite surf. So it's lots of fun to sit and watch them "learn the ropes". Sandy, easy access into the water makes this a fun, family picnic park to head to if you are going to the "other side" one day. Maybe after a trip to Ka'ahumanu Shopping Mall!
Click
here
for a link to some gorgeous Maui pictures!


Helpful Hint to First Time Maui Goers:
There is a Costco, Walmart, Kmart, and Whole Foods in Kahului (near the airport). Groceries are really expensive in Maui if you're not a local, so be sure to load up on everything you need (beverages, snacks, sunblock etc) while you're in Kahului at the big chain stores before heading to the condo (the tourist side) to save some money.